Strong identity for every connection in any environment
SSH Zero Trust Suite for Secure Communications and Access is a modular software suite that allows companies to communicate securely in traditional on-premise environments, when migrating to the cloud - and at any stage in between in IT/OT.
Our Suite identifies and secures communications when:
applications, systems, sites, machines or data centers need to communicate automatically

humans share sensitive data with each other

humans need to access critical targets for updates, maintenance of configurations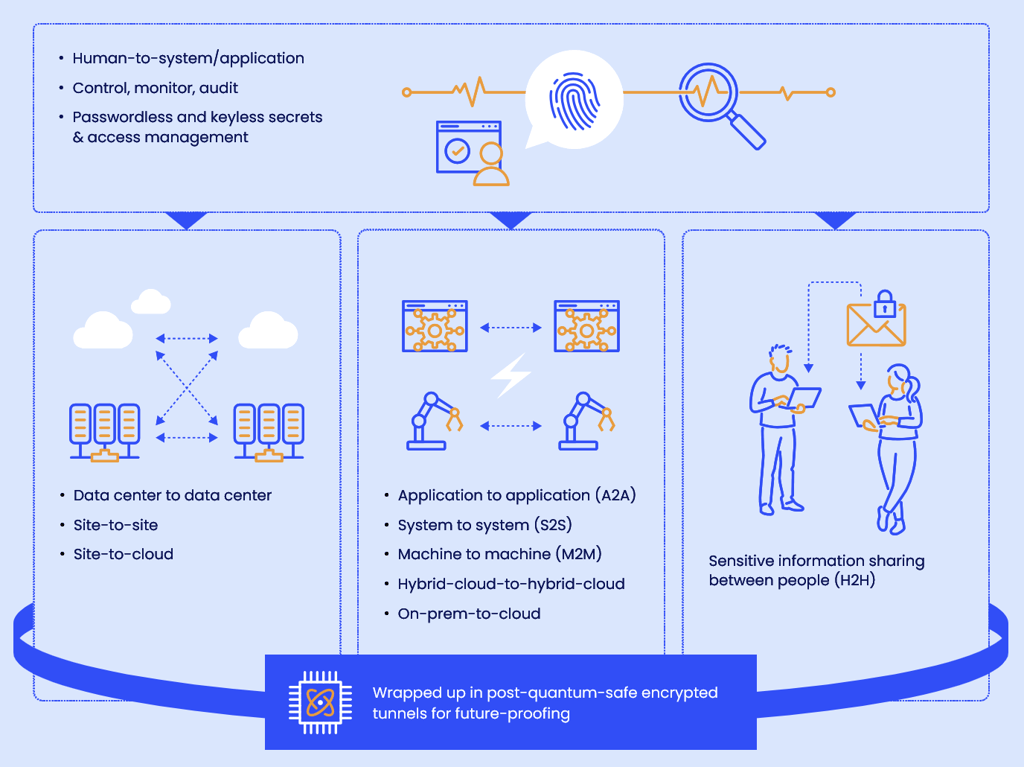 Identify. Restrict. Authorize. Control.
Ensure every access and connection is authenticated with a strong identity. Grant access only to the right target from a single solution. Assign only the minimal level of privilege needed to get the job done.
Prevent risks from materializing and mitigate the likelihood of data leaks and breaches with a defensive cybersecurity mindset.
Audit. Monitor. Record.
All sessions are audited, tracked, monitored, and recorded as needed for forensics, compliance, and learning. Turn on alerting, enjoy dashboards, generate reports, and detect anomalies and risks with AI-based User and Entity Behavior Analytics (UEBA).
Integrate with your existing security architecture
Integrate to Security Information and Event Management (SIEM) and Security Operation Center (SOC) for vulnerability management and threat intelligence.
Map user roles with identities with easy integration to Identity and Access Management (IAM), Identity Management (IdM), or directory services (like Azure AD). Stay up-to-date on any changes between them.
Protect on-prem, hybrid, and cloud environments alike
Secure communications in both traditional and modern technological environments in IT and OT. Migrate to modern secure communications driven by the cloud while protecting your investment in the traditional installed base, including mainframes. Use a single hybrid solution for all.
Book a demo to find out more.
Share, transmit, and store sensitive information securely
Sensitive data, like medical records, government secrets, or personally identifiable information (PII), should only be shared with solutions purpose-built for the task. Build authorized secure communications channels and workspaces across and outside your own organization.
Operational Technology (OT)
Maritime engine diagnostics access from the IoT cloud​ for the fleet
SSH/RDP access to marine vessels over a satellite link​ anywhere in the world
Zero Trust Suite provides tracking of user identities and a transparent view into the sessions, securing the VPN tunnel from unsanctioned use
Remote and on-site access for maintenance engineers of the seaport infrastructure
RDP and HTTP(S) connectivity to on-target remote terminals running programmable logic controller (PLC) systems​ to control seaport operations
Strong identity authentication combined with role-based access to data centers for in-house and third-party engineering staff​
Zero Trust role-based VPN access to PLC units and other IP targets (in development)
Passwordless and keyless authentication and access
British universal bank prevents security control bypass​
Compliance requirement for controlling SSH keys alongside passwords to prevent privileged access management (PAM) bypass​

1.5 million keys renewed automatically by application owners​

Zero Trust Suite reduced the biggest risk of shared passwords by migrating to JIT ephemeral certificates for passwordless and keyless access
Global semiconductor company fixes a security audit failure​
Risk assessment and scanning done with our SSHerlock tool reported access credential (SSH key) violations
Keys-violating global SSH policy removed

Application-to-application (A2A) access controlled with JIT SSH certificate access​ for keyless authentication

Passwordless authentication for secure remote user access
Secure human-to-human communications and data and file sharing
Blood donation with data encryption and protection
Donor data and identity is protected when they fill in the donor form

Sending the donor data only to authorized personnel with strong encryption and sender/recipient verification

Blood type shared with operating doctors in a secure workspace
A financial institution​ establishes authorized channels for sharing, storing, and collecting confidential business data over the internet
Data is stored securely in an encrypted format with strict access management and user authentication to minimize errors or indiscriminate access
Access levels to data align with the sensitivity level (confidential, restricted, secret) of each investment and funding deal

Multiple communication options, structured data, digital signatures, and audit logs of activities
Secure data and file sharing
European railway company updating their ticketing system ​to meet PCI-DSS compliance

 ​
Secure application traffic containing credit card data to meet PCI-DSS requirements runs over Network Address Translation (NAT) enabled firewalls

Train ticketing machines all around Europe send credit card data securely for further processing

No changes to the existing system
ERP company secures data communications in its internal network
Lowered total cost of ownership compared to in-house maintained system
Strong authentication (with Kerberos)​

Robust communications architecture​ built together with responsive support services​

Windows-based servers improved interoperability with third-party Secure Shell implementations
legacy
Perimeter security
VPNs ​
Firewalls ​
Network segmenting and monitoring​
Key vaults​
Primarily on-prem
modern
Hybrid cloud
On-premises and cloud​
Vaults and keyless​
Password rotation and passwordless
Firewalls/VPNs and Zero Trust
best-in-class
Zero Trust
Cloud native and supports hybrid environments ​
Keyless + passwordless​
Automated + immutable
Just-in-time (JIT) access + Just enough access (JEA)
Role based access control (RBAC)
SSH products behind the Zero Trust Suite
More resources on Zero Trust
Unlock the secrets of Zero Trust: because trusting no one is the new cool. Here are some extra resources.
Contact us for a demo.
Fill in the form and see the Zero Trust Suite in action >>>
Thanks for submitting the form.