Privileged access and encryption key management in one powerful package
85% of IT professionals share account credentials* and 80% of data breaches start with misuse of privileged credentials**.
The most common privileged credentials include passwords and SSH encryption keys. In our experience, 80% of SSH connections are machine-to-machine (M2M) and not properly controlled.
Traditional Privileged Access Management (PAM) solutions vault and rotate passwords but handle encryption keys poorly - or not at all. Key management solutions deal with keys but ignore passwords.
It's time to change that.
Our SSH Just-in-Time Zero Trust Solution combines PAM and Enterprise Key Management (EKM) into one unique and elegant solution. Control thousands of encryption keys AND passwords consistently and coherently through a single pane of glass.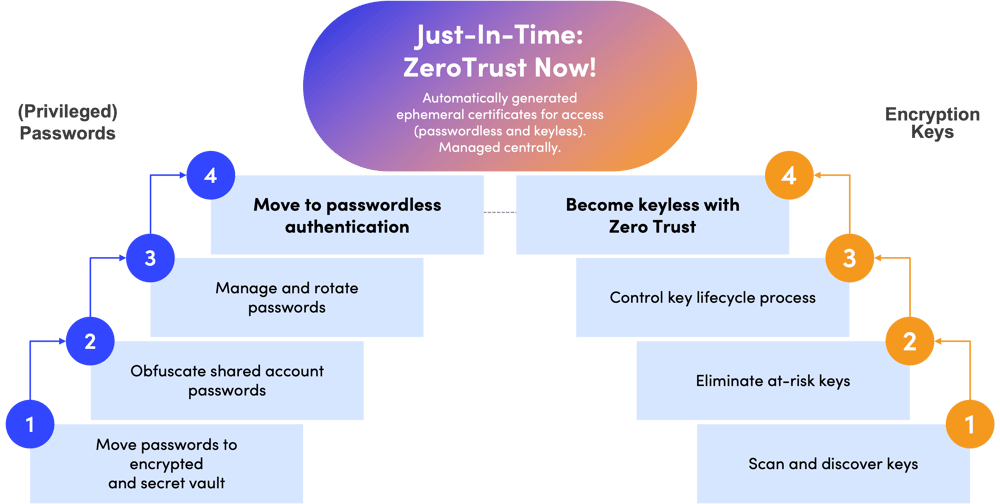 You can start by managing, rotating vaulting credentials. Eventually, you'll want to migrate to a model where most access is granted using unique short-lived certificates - without having to rotate and vault passwords and keys any longer. It saves time, money and improves security. With our hybrid approach you manage, vault and rotate credentials when you still have but go passwordless and keyless when you can.
Start your journey towards the passwordless and encryption keyless future at your own pace together with us.
Read more about hybrid password and key management here.
**Forrester Wave
Start Your Just-in-Time Zero Trust Journey
We can help you migrate from legacy perimeter security models to more modern hybrid cloud environments and eventually to best-in-class, future-proof passwordless and keyless access management.
legacy
Perimeter security
VPNs ​
Firewalls ​
Network segmenting and monitoring​
Key vaults​
Primarily on-prem
modern
Hybrid cloud
On-premises and cloud​
Vaults and keyless​
Password rotation and passwordless
Firewalls/VPNs and Zero Trust
best-in-class
Zero Trust
Cloud native and supports hybrid environments ​
Keyless + passwordless​
Automated + immutable
Just-in-time (JIT) access + Just enough access (JEA)
Role based access control (RBAC)
Eliminate unnecessary credentials, reduce complexity, AND audit all access
Just-in-Time Zero Trust Access Management
Take control of your passwords and encryption keys
Control all your critical credentials like SSH Keys and passwords from a single pane of glass at enterprise level. No separate point solutions, just one comprehensive tool for reducing attack vectors.
Migrate to keyless and passwordless access
Radically reduce the number of keys and credentials you need to rotate, delete, vault, upgrade, and manage. Stay automatically in sync with dynamic and elastic, hybrid and multi-cloud environments with less overhead.
Enjoy zero touch and immutable SSH access governance
Ensure your users only get the least privilege and just enough access (JEA) to get the job done without making changes to the SSH configuration files. Onboard machine connections to Zero Trust access models without touching the application code. Make your infrastructure immutable.
Audit automated and interactive access
Tie all access back to a known user or machine identity with proper tracking, audit trail, and role-based access controls (RBAC). Apply single sign-on (SSO) and multi-factor authentication (MFA) for added security.
Our Zero Trust product portfolio
SSH Zero Trust Enterprise Key Management
Start your migration to the future of Secure Shell connections without SSH keys in large and heavily regulated enterprise environments.
PrivX Zero Trust Privileged Access Management
Easy, automated, and cost-efficient way to manage access to critical data in the hybrid cloud, DevOps repositories, network devices, databases, or industrial target systems.
Tectia Zero Trust Secure Remote Access
Just-in-time and enterprise-grade secure remote access & file transmissions to servers and between servers - without leaving SSH Keys behind.
More about Tectia Zero Trust>>>
the future of ssh access and credentials management
Get the 'Future is passwordless and keyless' White Paper
Manage both passwords and SSH keys with least management effort and with minimal number of always-on credentials. No complex management solutions. Reduced management overhead. All Zero Trust and just-in-time aligned. Fill in the form to get your copy >>>