Zero trust
Improve secure access to multi-tenant environments
Zero Friction
Simplify access administration of cross-functional teams
more business
Increase revenue opportunities
Securing hosts under management can be complex
Managed Service Providers' (MSP) privileged users (like IT Admins, DevOps teams and application support) get access to highly valuable targets in the customer environments under management, including:
Windows, Linux and UNIX servers
Hypervisors & container management systems
Firewalls & network switches
Databases system controllers
Mainframes
Cloud administration consoles
Operational Technology (OT) devices
In hosted environments servers are spun up and down as needed. Remote monitoring and management tasks are done from all corners of the globe. Each task should have only the minimal amount of access required (principle of least privilege) to get the job done.
PrivX MSP Edition
Demonstrating proper access governance to customers is one of the key requirements for Managed Service Providers.
PrivX MSP Edition helps MSPs manage secure access of cross-functional teams to multi-tenant customer environments. It allows MSPs stay up-to-date with changes in authorizations, roles and dynamic target environments while providing the operational scalability needed in multi-cloud environments.
Roles are easy to manage, IDs are mapped to roles automatically and global cloud targets are always auto-discovered.
PrivX MSP Edition aligns MSP policies and processes with frameworks like Zero Trust and Zero Standing Privileges with Just-in-Time access.
These frameworks advocate the idea of discarding the use of always-on access and permanent credentials in favour of establishing every session on-demand, verifying the user every time a connection is made and overallo reducing the number of credentials to manage in the hosted environment.
85%
of IT professionals share account credentials with others out of convenience, even though most (70%) understand the risks of doing so. Learn more in the VansonBourne study.
80%
the proportion of data breaches starting with misuse of privileged credentials according to Forrester Wave.
ISO 27001
ISO 27001 is one of the most recognized industry standards. In particular annex A.9.1 of ISO 27001:2013 puts the focus on the business requirements of access control.
reduce complexity and audit access
Multi-tenant access secured & simplified
Centralized access for cross-functional teams
Improve security by centralizing privileged access management (PAM) and providing least privilege access in cross-functional data center and hybrid cloud ecosystems. Separation of roles per customer environment is straightforward.
No secrets left behind
Application owners, infrastructure administrators, software developers, DevOps engineers and third-party experts never handle or see any secrets when establishing a connection. In many cases, they are granted single sign-on (SSO), just-in-time (JIT) access without any privileged passwords.
Audit & track sessions
Ensure all sessions are identified, tracked, audited and also recorded if needed for compliance, forensics or to demonstrate a track record of activities for your customers.
Manage access to multi-tenant environments
Establish proper policies and workflows for managing secure remote access to hosts under management in multi-tenant setups. Define access groups, roles per customer and role permissions and restrictions with ease.
Turn security into business opportunities
Offer privileged access management as a service (PAMaaS) for new revenue opportunities. PrivX MSP Edition can be embedded as a fully integrated with customer deployment, service desk ticketing and user provisioning workflows.
Boost operations with cloud scalability to all targets
PrivX MSP Edition can manage access to targets in on-premises, multi-cloud (AWS, Azure, GCP), network device, application and Virtual Network Computing (VNC) environments - and scale as your needs grow. Enjoy auto-discovery of cloud assets.
Privileged Access for Fujitsu as MSP
Premise: Fujitsu uses their CME environment to govern and manage access to their customers' environments. Fujitsu has multiple large customers in their managed environment, providing hosting, network management, application services, SOC (Security Operations Centre) & SIEM (Security Incident & Event Management) services and development for their customers.

Challenge: Previously deployed traditional PAM solution meant managing multiple jump hosts and maintaining manual configurations to environments under management. This was particularly demanding and time-consuming in dynamic, multi-cloud customer environments and while granting different levels of privilege to admins who manage those environments.

Change: Fujitsu was able to ensure access that is governed, controlled and audited in a Just-In-Time manner and without the risk of leave-behind credentials. This not only improved security but brought operational efficiency and lowered the cost of providing the services to customers. Fujitsu was also able to leverage their own IDM solution for identities simply by interfacing PrivX with it. PrivX automatically syncs identities with the right privileged roles no matter how often the identities change or are revoked.
manage cross-functional team access in multi-tenant environments
White Paper: How MSPs can reduce access management risk, complexity and costs in customer environments
More and more enterprises outsource parts or most of their infrastructure to Managed Service Providers (MSP).

This evolution has led to MSPs getting access to highly valuable targets in the customer environments, typically using what are called privileged accounts.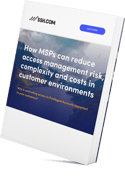 Learn how MSPs can simplify their access management in multi-tenant environments where cross-functional teams need different levels of privileges, demonstrating a solid audit trail of activities is a customer requirement and there are new revenue opportunities with PAM-as-a-service (PAMaaS). >>>